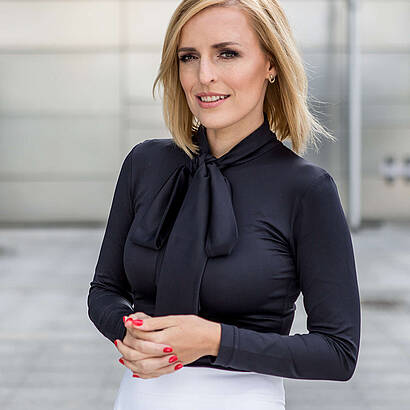 Partner at esb Rechtsanwälte Emmert Bücking Speichert Matuszak-Lesny
Partnerschaftsgesellschaft mit beschränkter Berufshaftung.
Head of esb Adwokaci i Radcowie Prawni office in Warsaw.
She graduated with distinction from the Faculty of Law at Lazarski University. The above did not prevent her from taking up her first professional challenges as a lawyer while still at university. Immediately after graduation, she passed the legal attorney apprenticeship exam, but postponed the commencement of her training for 1 year. During this time she decided to embark on a 6-month internship at a law firm in Stuttgart. She stayed at the law firm for a longer time - more than a year, after returning to Poland she continued to work with the law firm, to become a partner of the law firm as an attorney at law. Currently, as a partner in esb Rechtsanwälte Emmert Bücking Speichert Matuszak-Lesny Partnerschaftsgesellschaft mit beschränkter Berufshaftung and head of the Warsaw office, she is developing the law firm in Poland by providing services to Polish and foreign clients. It has also signed a cooperation agreement with a law firm in Lille, France, and its intention is to expand the law firm with German roots into other markets. In cooperation with the French law firm, she is involved in creating business relations between the Polish community in France and other parts of the globe. In addition to her work at the firm, she is involved in many other initiatives. She is, among others, a member of the Advisory Board (Beirat) of the German association VOI based in Bonn, as well as a founder of this association in Poland. Due to her professional specialisation - new technologies, IT, intellectual property law, personal data protection - she is also involved in organisations supporting art. For this reason, she is a member of the Board of the Polish Artists
in Emigration Foundation. The aim of the Foundation is to support artists of Polish origin who create abroad. These artists are often highly recognised in the country of their current residence and in other parts of the world, but little known and unjustly undervalued on the Polish market. Ms Justyna is also an advocate of conducting business through recommendations and therefore she is actively involved in business recommendation organisations. For several years, she has been an active member of BNI, where she has successfully held the position of Group President, and she still sits on the Membership Committees.
She is successfully developing her business activities and is a mother of 5-month-old Staś.