Publication:

| Home page

/

News

/

Faculty of Medicine

/

V4 Network

/
On the 1st of February 2023, the Faculty of Medicine MedExcellence Medical Simulation Centre formally started the implementation of the project entitled "V4 Network of Medical Simulation Centres: Building Good Practices."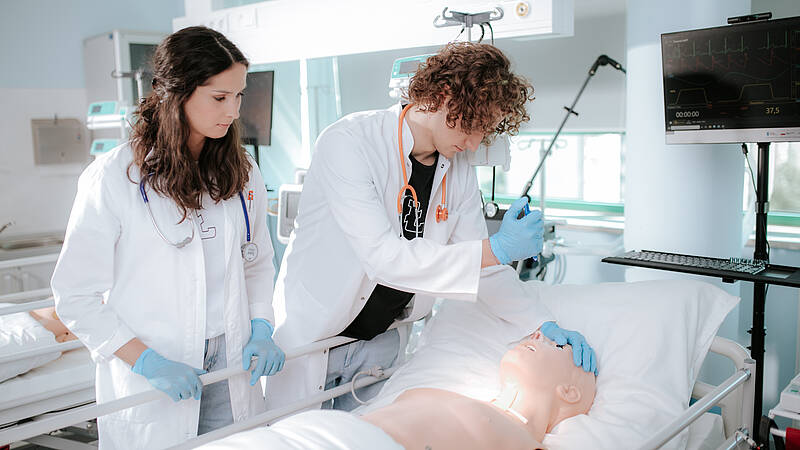 This is the first (International Visegrad Fund – IVF) project to be realised by Lazarski University. Visegrad Grants support regional partnerships among the Visegrad Group countries (V4) - the Czech Republic, Hungary, Poland and Slovakia, as well as Eastern Europe and the Balkans, in areas like culture, education, innovation, entrepreneurship, social development and sustainable development.
Project's goals are to promote medical simulation training, cooperation in V4 region and to raise awareness of region's potential as a valuable international partner in a growing global medical simulation industry. Lazarski University is the Project Coordinator with the Faculty of Medicine MedExcellence Medical Simulation Centre at the helm and supported by the Structural Projects Department. Project Partners include leading medical simulation centres from top universities in the Visegrad region (V4):
The project "V4 Network of Medical Simulation Centres: Building Good Practices" received IVF funding in the amount of 28, 200.00 EUR to produce an online database of V4 medical simulation centres and undergo study visits to each Project Partners' medical simulation centre. The result of these meetings will be a joint publication on best practices which can serve as a foundation for standardized medical simulation training in the Visegrad region.
Visit the Project's website to learn more about the Project and its Partners, as well as upcoming events.
Lazarski University named the best Polish university in U-Multirank!