On 14 December 2016, Katarzyna Gmaj, PhD – co-author of a book describing the situation of Indian immigrants in Poland and their needs – held the "Namaste Poland" lecture at the Łazarski University.
The event was organised by the Department of Quantitative Methods at the Faculty of Economics and Management of the Łazarski University.
The meeting participants learned that Indian immigrants would increasingly often choose Poland as their country of destination. Many of them decide to settle here permanently. The lecture featured statistical data regarding immigration and analysed the reasons for the migration of the Indian people to Poland. It also discussed the perception of Poland and Poles by Indian immigrants, which plays a significant role as it affects their adaptation to the Polish conditions and their plans for the future.
The presentation was based on the results of studies conducted within the framework of a project conducted by Foundation for Somalia and co-funded by the "European Fund for the Integration of third-country nationals" and the Polish government.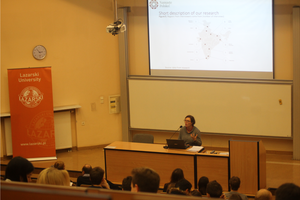 Katrzyna Gmaj, PhD
from the left: Łukasz Konopielko, PhD; Professor Krystyna Iglicka-Okólska, PhD; Paweł Najechalski, PhD, Eng.; Krystyna Bąk, PhD